At BDSM gear we take great pride in the bondage and bdsm gear that we offer.
No other company can beat our prices on bondage and bdsm dungeon furniture!

Bondage Bench
Item Number c867v

| | |
| --- | --- |
| Ouch Meter | |

$499.95 - $619.95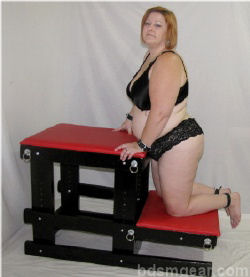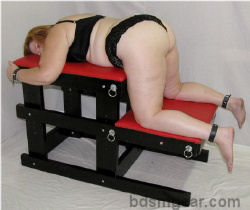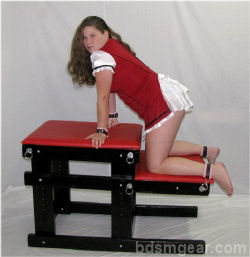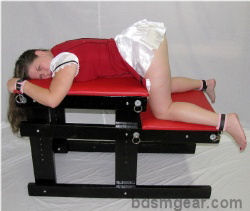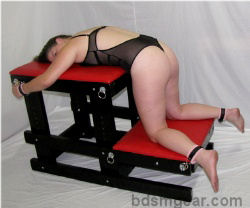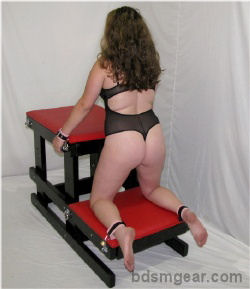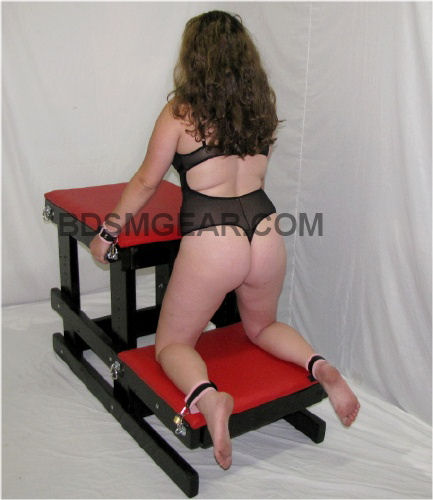 See below for description
Genuine Leather
Made in the USA
Please allow 4 to 6 weeks for delivery of this item.

Cushion materials
Vinyl $499.00
Leather $619.00


Colors you have selected


Black Vinyl

Mahogany Wood

No dungeon is complete without a bondage bench, and this is one great bondage bench.
The top of this bench is solid. The kneeling pad is adjustable so everyone can get comfortable on it, and the sub can be placed in just the right position.
With the kneeling pad set low it is very comfortable, great for long term bondage, and the ass is nice and low for spanking or flogging.
Set the kneeling pad high and its not so comfortable, but the ass sticks up so nicely for spanking.
Great for bondage, spanking, flogging, and so many other uses.
This bondage bench is well built. The legs are 2X6 lumber. The rest is made of 2X4 lumber.
It is strong enough to easily support 2 or more people, even during sex.
The cushions are available in genuine leather, or high quality marine vinyl (the toughest vinyl you can get).
Dimensions are 48" long by 24" wide by 30" tall.
The kneeling pad adjusts from 12" high to 21" high.
Weight is about 80 lbs.

Comes with our lifetime guarantee!

Bondage Bench