At BDSM gear we take great pride in the bondage and bdsm gear that we offer.
Our BDSm Floggers are guaranteed to last! These beautiful deer floggers are a great addition to any toy bag!
Soft Sensual Deer Hide Flogger
Item Number Z315

| | |
| --- | --- |
| Ouch Meter | |

$29.95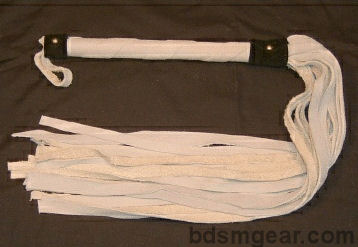 See below for description

Genuine deer
Made in the USA


Our deer hide floggers are designed specifically for warm-up.
It is very importance to have a variety of floggers available especially for warm-up. Our deer hide floggers are a great medium warm-up flogger, softer then suede floggers but a little harsher then a rabbit flogger.

If you are buying your first flogger our deer hide flogger is one you will definitely want to consider. If you already have several floggers our deer hide flogger will make a wonderful addition to your collection.

These floggers have 21 falls and are made of light grey deer hide, trimmed in black suede.
Overall length is 24".
20 lashes are 1/4" wide and 16" long
Handle is 8" long

Bondage store Dungeon Furnishings BDSm Store Dungeon Furniture bdsm gear Bondage gear Imprisonment Fetish Fetish Chair dungeon chair bondage store Suspension Gear Pet Slave Cage Dungeon Gear Long Term Bondage Bondage Rack for Torture SM Equipment Portable Dungeon Suspension Gear Dungeon Chair Dungeon Equipment Bondage Furniture for BDSM Suspension Support SM Furniture Standing Cage Cage Dungeon Cages Bondage Equipment Collapsible Dungeon Cage Folding Bondage Bed Sex Sling Gear SM Chair BDSM Equipment Suspension Stand Rack Bondage Furniture for BDSM Dungeon Slave Cage Sex Swings Sex Slings Sex Swing Sex Sling Love Swings Love Sings Love Slings Love Sling Bondage Swings Ring Portable Suspension Bondage Swing BDSM Gear Bondage Sling Bondage Slings Suspension Harness Fisting Swing Fisting Swings Fisting Harness Fisting Harnesses