At BDSM gear we take great pride in the bondage and bdsm gear that we offer.
No other company can beat our prices on bondage and bdsm dungeon furniture!
Scarlet Couture Bondage Duo Crop And Flogger Red/Black
Item Number y14-en-ae-6093

| | |
| --- | --- |
| Ouch Meter | |

$29.95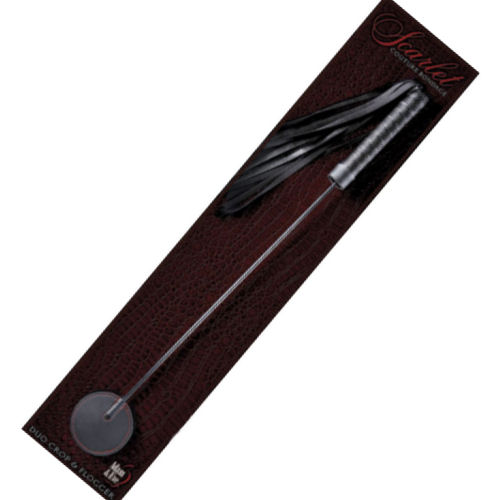 See below for description

Double Your Kinky Thrills With A Playful Flogger & Punishing Crop! Switch from a flogger to a riding crop with a flick of the wrist thanks to this convenient and kinky combo! Simplify your sex dungeon accessories with this convenient toy that combines a riding crop and flogger into one handy tool!

A vegan leather riding crop is on one end. The riding crop consists of a round leather disc used to swat your partner. The riding crop works like a paddle to spank your partners rear or their erogenous zones. But the riding crop has a much smaller surface area, so its impact generally stings more than that of a paddle. You can easily vary the strength of the impact from a gentle tap up to a stinging swat.

A flogger made up of vegan leather strips is on the opposite end of the toy. There are over a dozen strips that you can use for a wide range of stimulation. You can dangle the strips over your lovers nipples or clit and gently whisk them creating a teasing sensation similar to multiple feathers. Or you can pull your arm back and flick your wrist to deliver anything from a playful whisk to a sexy snap.
The crop measures 3 inch wide at the tip and 24.75 inch long from the tip to the bottom of the vegan leather-wrapped handle. The flogger measures 1 inch wide and 19 inch long from the top to the bottom of the handle. Combined, the duo measures 3 inch wide and 37 inch long.

It is made from vegan leather, which recreates the look and feel like real leather without harming any animals.

extreme restraints bdsm furniture bondage store