At BDSM gear we take great pride in the bondage and bdsm gear that we offer.
Standard Enema Kit
Item Number P909

| | |
| --- | --- |
| Ouch Meter | |

$19.95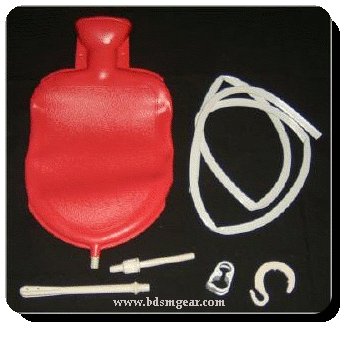 See below for description

Complete Enema Kit!
An enema is an excellent way to cleanse. It can and will cause some discomfort from the pressure of the enema. It is a general hygiene item which is safe when used properly; instructions are included with this item.

This kit comes with every thing shown in the picture for all your enema needs.
Please note: Due to the nature of these items there is NO refund or exchanges on these items.
We accept no responsibility for the use or misuse of these items.

Leather bdsm gear, bondage gear, sex toys, bdsm toys handcrafted by-BDSMGEAR.com
Bondage store Dungeon Furnishings BDSm Store Dungeon Furniture bdsm gear Bondage gear Imprisonment Fetish Fetish Chair dungeon chair bondage store Suspension Gear Pet Slave Cage Dungeon Gear Long Term Bondage Bondage Rack for Torture SM Equipment Portable Dungeon Suspension Gear Dungeon Chair Dungeon Equipment Bondage Furniture for BDSM Suspension Support SM Furniture Standing Cage Cage Dungeon Cages Bondage Equipment Collapsible Dungeon Cage Folding Bondage Bed Sex Sling Gear SM Chair BDSM Equipment Suspension Stand Rack Bondage Furniture for BDSM Dungeon Slave Cage Sex Swings Sex Slings Sex Swing Sex Sling Love Swings Love Sings Love Slings Love Sling Bondage Swings Ring Portable Suspension Bondage Swing BDSM Gear Bondage Sling Bondage Slings Suspension Harness Fisting Swing Fisting Swings Fisting Harness Fisting Harnesses