At BDSM gear we take great pride in the bondage and bdsm gear that we offer.
No other company can beat our prices on bondage and bdsm dungeon furniture!

Extreme Steel Bondage Post
Item Number y17bmtp

| | |
| --- | --- |
| Ouch Meter | |

$799.95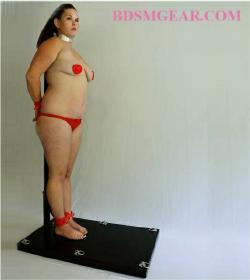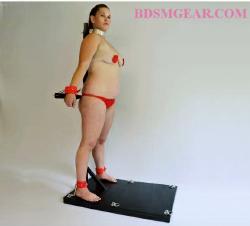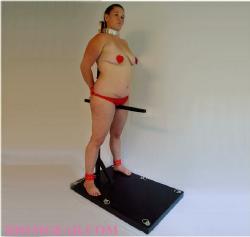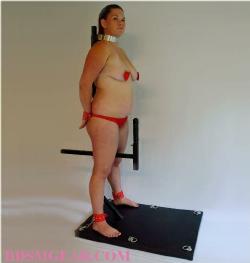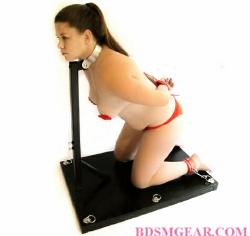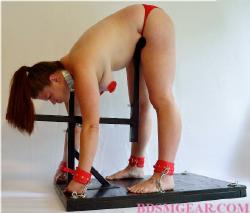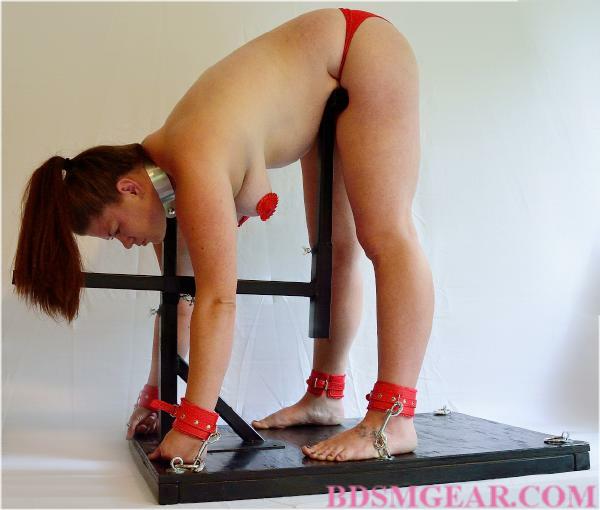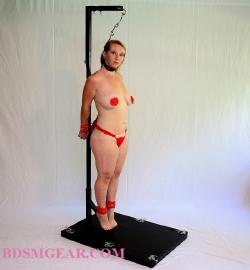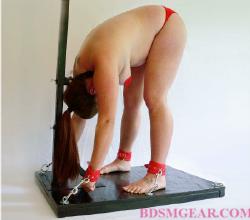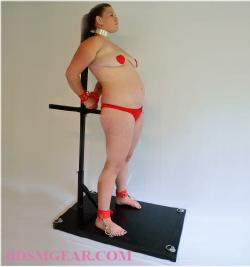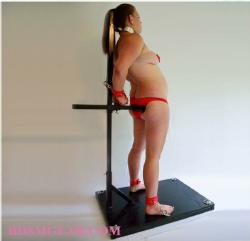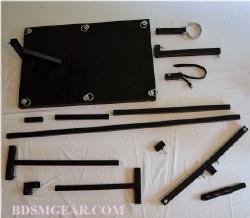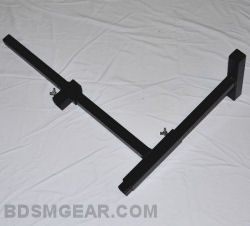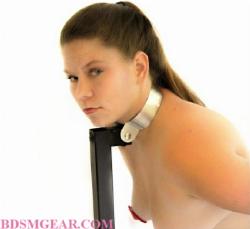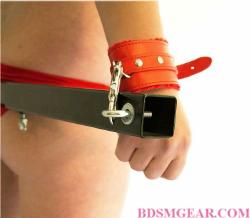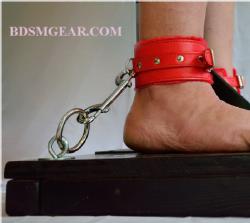 This steel bondage post is like an erector set for kinky people.
It comes complete with all the parts shown on this page.
With all it's parts it can be configured in so many possible configurations.
The only limitations are your imagination, and the subs ability to get into crazy positions.
This bondage post can handle very light bondage to very extreme bondage, and everything in between.

The base of this post is made of wood. The rest is steel, except for the collar which is aluminum.
The base is 36 X 24 inches, and features 6 bondage rings.
It comes with 1 tall steel post, 1 medium steel post, and 1 short steel post.

This bondage post comes with 2 collars. 1 aluminum, and 1 leather
The leather collar is one size fits all.
The aluminum collar is custom sized. Additional aluminum collars can be purchased at the bottom of this page
The aluminum collar actually bolts directly to the post so there is no give. Not even a little!
Once the sub's neck is bound to this bondage post using the aluminum collar they will stay put and pretty still,
no matter what the dom does to them.
The leather collar also attaches directly to the post, but it is adjustable, and allows a lot of give.
2 Collar couplers and 1 coupler extension are included, so you have options for how to attach the collar.
And with the extension, the sub can be forced to stand away from the post.

This bondage post also comes with a pusher bar. The pusher bar includes 3 pieces.
The part that mounts it to the pole, a bar for pushing out, and another for pushing up.
It can be used to push the sub away from the post, or to hold them up, or who knows what uses you might find for it.
This pusher bar can be used anywhere on the main post and makes the post far more restraining.

This bondage post also includes an attachable dildo.
Using the pusher bar, you can configure a riding horse.
or add the dildo and you have an impaler.
or for even more fun strap a vibe to the pusher bar for a vibrating impaler

This bondage post also includes an adjustable spreader bar.
This adjustable spreader bar can be used to keep the subs arms spread wide.
It adjusts from 27" to 45" wide.
It can be used most anywhere on the main post, or on the pusher bar.
It will not work at the bottom of the main post for the ankles as the connector on the base is 12" tall.
But there are bondage rings on the base for the ankles.

And finally, this bondage post includes a bondage point.
The bondage point is a piece of large tubing with an eyehook for attaching things to.
The bondage point can be used anywhere on any of the posts

This bondage post has so many possibilities.
And it quickly disassembles for transport or storage.
It is a must have for anyone into extreme bondage, or torture.
Made in America, right here in our shop.
Comes with our LIFETIME GUARANTEE

Please allow 4 - 6 weeks for delivery of this item.


Extra Collar Add-on
| | |
| --- | --- |
| Item Number y1610bmtpec | $24.95 |
This bondage post comes with one collar.
These collars have no adjustment at all.
You can order additional collars here if you need more then one size.
These do not include the connector. They all fit the same connector.


Extreme Steel Bondage Post