At BDSM gear we take great pride in the bondage and bdsm gear that we offer.
Wartenburg wheel for your BDSM Needs!
Stainless Wartenburg Wheel
Item Number Z440

| | |
| --- | --- |
| Ouch Meter | |

$9.95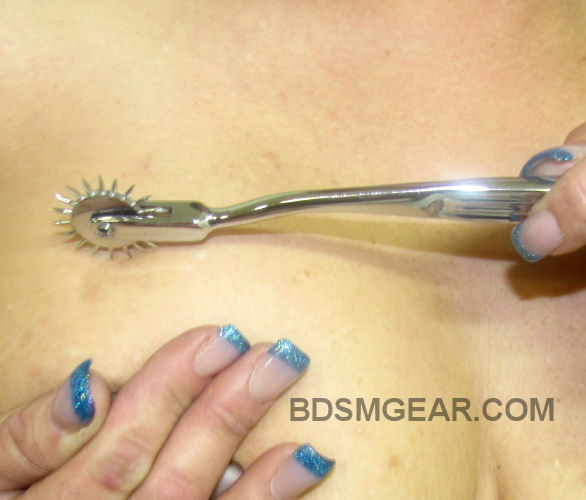 See below for description

This stainless steel Wartenburg wheel is a great addition to any toy bag.
Drag it across the skin lightly and its a nice tingly feeling. A little pressure and the pins are quite sharp and can easily draw blood.
This is a must have in any toy bag!

Leather bdsm gear, bondage gear, sex toys, bdsm toys handcrafted by-BDSMGEAR.com
Bondage store Dungeon Furnishings BDSm Store Dungeon Furniture bdsm gear Bondage gear Imprisonment Fetish Fetish Chair dungeon chair bondage store Suspension Gear Pet Slave Cage Dungeon Gear Long Term Bondage Bondage Rack for Torture SM Equipment Portable Dungeon Suspension Gear Dungeon Chair Dungeon Equipment Bondage Furniture for BDSM Suspension Support SM Furniture Standing Cage Cage Dungeon Cages Bondage Equipment Collapsible Dungeon Cage Folding Bondage Bed Sex Sling Gear SM Chair BDSM Equipment Suspension Stand Rack Bondage Furniture for BDSM Dungeon Slave Cage Sex Swings Sex Slings Sex Swing Sex Sling Love Swings Love Sings Love Slings Love Sling Bondage Swings Ring Portable Suspension Bondage Swing BDSM Gear Bondage Sling Bondage Slings Suspension Harness Fisting Swing Fisting Swings Fisting Harness Fisting Harnesses