At BDSM gear we take great pride in the bondage and bdsm gear that we offer.
Our BDSM Collars are available in roller buckle or locking. Each collar is handcrafted based on the size you provide so don't forget to send us your size!

Double Belt Posture Training Collar
Item Number z131

| | |
| --- | --- |
| Ouch Meter | |

$29.95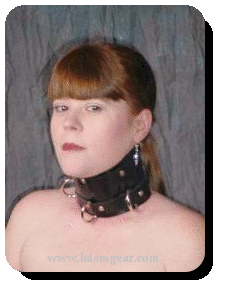 See below for description


Genuine Leather
Made in the USA


This collar will have the wearer holding their neck up straight and it locks to ensure that they stay that way! Made of medium leather it comes in widths of 3", 3.5", 4", or even 4.5". It features 2 belts, both use double D-ring fasteners as they allow the most versatility in tightness. It also features 4 D-rings on the lower belt for plenty of control. This is a must have for posture training.

Lock is NOT included. Locks must be purchased separately.


Be Sure to send us a size!