At BDSM gear we take great pride in the bondage and bdsm gear that we offer.
No other company can beat our prices on bondage and bdsm dungeon furniture!
Pose And Disclose Game
| | | |
| --- | --- | --- |
| Item Number y15-pndcg | | $7.95 |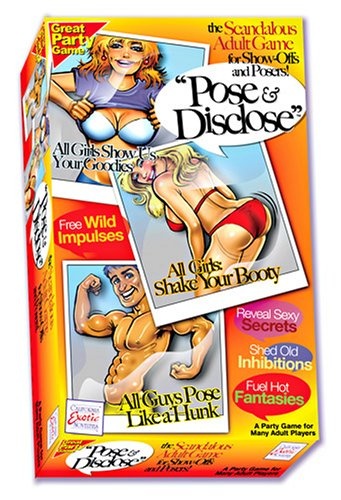 See below for description

Pose and Disclose is The Scandalous Game for Show-Offs and Posers! Girl and guy players get the eye-opening, make 'em squirm, laugh-a-minute chance to explore the true nature of the opposite sex. Ask your friends and lovers probing questions to learn what they really think, who they really are and how they really relate to the hot and sexy topics in the ever-changing battle of the sexes. You'll find out more than you've ever thought possible about the opposite sex as players Pose and Disclose their sexy secrets, burning desires, hidden trysts and hottest fantasies! A great party game! Contents include 120 Pose and Disclose cards, 40 Pose and Disclose character cards, 2 Pose and Disclose dice and 1 rule sheet. Pose and Disclose is a party game for many adult players.

Pose And Disclose Game