At BDSM gear we take great pride in the bondage and bdsm gear that we offer.
No other company can beat our prices on bondage and bdsm dungeon furniture!

Pro-series Flogger on a chain
Item Number y13-foc1

| | |
| --- | --- |
| Ouch Meter | |

$169.95 - $229.95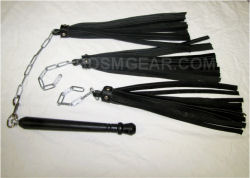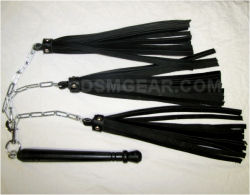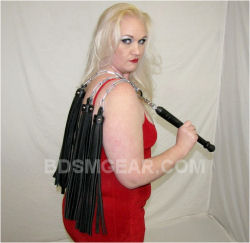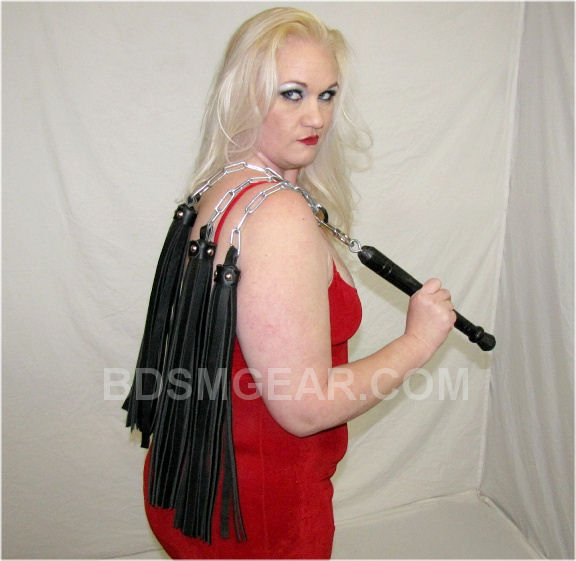 See below for description

This amazing 2 head flogger is really something to see. It is a bit threatening, yet so easy to manipulate.
The heads are attached with a free moving swivel, allowing the heads to spin freely so they don't tangle very easily.
This model has a 12 inch long wooden handle, and a 2 heads on 9 inch chains, giving it a really long reach.
This flogger is available in a variety of materials. If you're looking for soft we recommend one of the suedes. If you're looking for more sting then we recommend one of the leathers.
This flogger has 1/2 inch wide lashes and they are available in 2 lengths. The 16 inch lashes are best in tight quarters, like the bedroom. The 24 inch lashes are good where you have plenty of room for swinging, like in the club.
NOTE: With 24 inch lashes, this is a very heavy flogger, and may be too much for some people to swing.
With the 16 inch lashes this flogger has a total length of 39 inches, or 47 inches with the 24 inch lashes.

bondage Flogger on a chain