At BDSM gear we take great pride in the bondage and bdsm gear that we offer.
Our BDSm Floggers are guaranteed to last! These beautiful rabbit floggers are a great addition to any toy bag!

Rabbit Hide or Faux Fur Flogger
Item Number Z319

| | |
| --- | --- |
| Ouch Meter | |

$39.95 - $59.95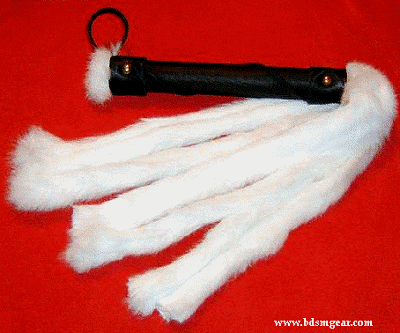 See below for description

GENUINE WHITE RABBIT SHOWN
Genuine Leather
Made in the USA

email to a friend

Real Rabbit Fur $59.95
Available in white only.

---

Faux Fur $39.95

FLOGGER CASE
Protect your purchase with one of our flogger cases made to fit! Purchase one with your flogger for $24.95 and shipping is only $0.50!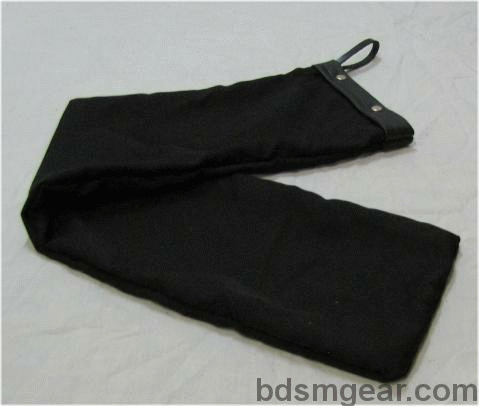 Our rabbit flogger is a must have for any Master or Dom.
These floggers are extremely soft and sensual, offering great tactile sensation play. The rabbit fur teases and arouses when drawn slowly across the waiting flesh making it the perfect flogger when you want to arouse the slave or sub. There is no thud or sting.

No matter how many floggers you have a toy box is not complete without a rabbit flogger.

This item is handcrafted of very soft genuine rabbit fur, available in black or white, on a 8 inch leather-covered handle. They have 6 large falls, approximately 14 inches in length; each fall is rolled and sewn so there is hair on all sides. The weight of this flogger is less then 1/2 a pound, so it is easy to use for a long period of time.

This is a must for the sensation enthusiasts toy bag!


Bondage store Dungeon Furnishings BDSm Store Dungeon Furniture bdsm gear Bondage gear Imprisonment Fetish Fetish Chair dungeon chair bondage store Suspension Gear Pet Slave Cage Dungeon Gear Long Term Bondage Bondage Rack for Torture SM Equipment Portable Dungeon Suspension Gear Dungeon Chair Dungeon Equipment Bondage Furniture for BDSM Suspension Support SM Furniture Standing Cage Cage Dungeon Cages Bondage Equipment Collapsible Dungeon Cage Folding Bondage Bed Sex Sling Gear SM Chair BDSM Equipment Suspension Stand Rack Bondage Furniture for BDSM Dungeon Slave Cage Sex Swings Sex Slings Sex Swing Sex Sling Love Swings Love Sings Love Slings Love Sling Bondage Swings Ring Portable Suspension Bondage Swing BDSM Gear Bondage Sling Bondage Slings Suspension Harness Fisting Swing Fisting Swings Fisting Harness Fisting Harnesses