At BDSM gear we take great pride in the bondage and bdsm gear that we offer.
Stainless Steel Mathieu Speculum from BDSM Gear
Stainless Steel Mathieu Speculum
Item Number P412

| | |
| --- | --- |
| Ouch Meter | |

$39.95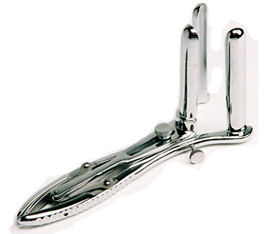 See below for description

This is the Mathieu Rectal Speculum, this unique medical item features a 3-prong speculum design. Made from stainless steel it has 3 prongs that measure approximately 3.5 inches and when wide open this devices is approximately 3 inches. Great for viewing! Once you have it set to the desired opening you can lock the speculum by turning an adjustment screw and leave it in place as long as you desire.

Leather bdsm gear, bondage gear, sex toys, bdsm toys handcrafted by-BDSMGEAR.com
Bondage store Dungeon Furnishings BDSm Store Dungeon Furniture bdsm gear Bondage gear Imprisonment Fetish Fetish Chair dungeon chair bondage store Suspension Gear Pet Slave Cage Dungeon Gear Long Term Bondage Bondage Rack for Torture SM Equipment Portable Dungeon Suspension Gear Dungeon Chair Dungeon Equipment Bondage Furniture for BDSM Suspension Support SM Furniture Standing Cage Cage Dungeon Cages Bondage Equipment Collapsible Dungeon Cage Folding Bondage Bed Sex Sling Gear SM Chair BDSM Equipment Suspension Stand Rack Bondage Furniture for BDSM Dungeon Slave Cage Sex Swings Sex Slings Sex Swing Sex Sling Love Swings Love Sings Love Slings Love Sling Bondage Swings Ring Portable Suspension Bondage Swing BDSM Gear Bondage Sling Bondage Slings Suspension Harness Fisting Swing Fisting Swings Fisting Harness Fisting Harnesses